Rising Global: It turned from a small workshop into a giant facility exporting to 56 countries.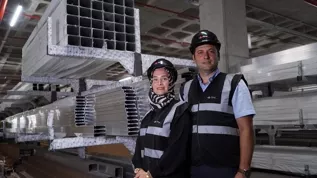 Source: https://m.gunes.com/ekonomi/rising-global-kucuk-bir-atolyeden-56-ulkeye-ihracat-yapan-dev-bir-tesise-donustu-1141225
Yükselen Tente company, founded by Yeliz-Rasim Yüksel couple in 2003, expanded abroad and took the name 'Rising Global'. The company, which has turned into a large production facility of 20 thousand square meters from a small workshop, not only supports the country's economy, but also breaks new ground in its field by exporting to 56 countries. We talked to Rasim Yüksel, the founder of the company.
* When and how was the Rising Global brand born?
– Rasim Yüksel: In 2003, together with my wife Yeliz Yüksel, we founded Yükselen Tente in Zeytinburnu, Istanbul. We produce pergola and glass systems. After our overseas expansion, our company took the name 'Rising Global'. We have the largest production facility in our industry. We have a sales network reaching 56 countries. We can say that our brand has brought a new breath to the sector.
* What do you produce with your company, who is your target audience?
* In the field of shading systems; we produce awning and curtain systems, pergola systems, bioclimatic systems and glass systems. With the vision of "accessible quality", we aim to be a sought-after brand at every point where shade is needed. In the target audience index, we have different solutions for all residences in both city life and villa life. We also offer project-based long-lasting space closure solutions for cafes, restaurants and hotels.
RIGHT INVESTMENT AT THE RIGHT TIME
* Could you also give information about the company structure and the number of employees?
– Rasim Yüksel: Rising Global has a corporate structure. We have 200 personnel, and in this sense, we continue to contribute to the country's economy in the field of employment. As Rising Global, we continue our development with our R&D studies. We are also the first manufacturer of shading systems to carry out advertising campaigns on both national channels and social media.
* How did you manage to transform Rising Global from a small workshop to a large production facility of 20 thousand square meters?
– Rasim Yüksel: We have reached today's production point by making the right investment at the right time with our determination to reach the target and our analytical perspective. Sometimes it's a feat to see the treasure behind what no one believes in. Rising Global is not short goals for us, but a victory achieved patiently with firm steps towards long-term goals… Analyzing the economic data well, creating a professional staff and most importantly being able to offer real quality with a sense of trust has brought our Rising Global brand to where it is today.
ACTIVE SALES NETWORK IN 56 COUNTRIES
* Which countries do you export to?
– Rasim Yüksel: We have an active sales network in 56 countries in Europe, Africa, Asia, America and Oceania. And this number is increasing every year. We offer the same quality at more affordable prices than European manufacturers by proportioning competitive price policies and quality index in target markets.
* It says on your website that you have an "environmentally friendly production approach". Could you expand on this subject a little bit?
– Rasim Yüksel: All of the products we produce have TÜV certificate and necessary certification. We attach great importance to the fact that our products do not harm the nature and are compatible with nature. In addition, we keep the quality at the highest level in order to support energy saving in living spaces.
WE OFFER OUR COUNTRY'S PRODUCTION QUALITY TO FOREIGN CONSUMERS
* Women are also in the majority in your management staff. Can you talk a little bit about your management model?
– Rasim Yüksel: Yes, my wife Yeliz Yüksel is our chairman of the board of directors, that is, one of the top managers of our company. He has an active role in the functioning of all departments. Our operations department supervisor and after sales support department supervisors are also women. At Rising Global, we believe that women are at least as successful as men, and in some cases even more talented.
* What are your vision, mission and goals?
– Rasim Yüksel: Our Vision; To be a well-known brand all over the world with our solution and result-oriented communication structure that contributes to the economy of our country, adds value to nature and people, with a contemporary and open-to-development synergy as Rising Global. Our mission is to enrich people's lives with our country's own capital and manpower, and to bring the highest quality products to our consumers with accessible price policies. Our short and long term goals; To present the production quality of our country to foreign consumers with our Turkish brand image in new markets, to increase our share in those markets and to support the country's exports, and to become the world's best-known shading systems manufacturer, which is included in our company's 10-year target policy.
WE NEVER LOSE OUR EXCITEMENT
* What are the differences between Rising Global and its competitors?
– Rasim Yüksel: Rising Global is a younger company compared to its competitors. This situation necessitates being open to energy and innovation. Maybe one of the main reasons we are in this position; We never lose our enthusiasm. We create employment with a staff that always follows innovation and researches "How can it be done better". We have endless respect for all manufacturers in our country. I think our difference is that we are the company that adapts to innovations the fastest in the sector.
* Are there any firsts you have signed as a company?
– Rasim Yüksel: We are the first shading systems company to make advertising campaigns on all national channels. In addition, as R&D, we are the patent holder of articulated arms with integrated lighting system. We are the company that implemented an integrated sound system in bioclimatic systems. And we are the first bioclimatic pergola system manufacturer with suspended system. We are the first company that offers 24/7 service and has technical service on duty even on holidays and New Year's Eve.
WE PREFERED GROWTH WHILE MANUFACTURERS WERE SHALLING SHORTEN IN THE PANDEMIC
* Due to the pandemic, 2020 and 2021 have been challenging years for many industries. How did you spend this period?
– Rasim Yüksel: During the pandemic period, while most producers were shrinking with panic, we preferred to grow. We moved our production area of 5 thousand square meters at that time to an area of 20 thousand square meters with our new factory. In the pandemic, we aimed to increase the awareness of our brand through both sponsorships and advertising support with a very large-scale advertising campaign. We think that we have been very successful in this. We have foreseen the needs that consumers will experience when they stay at home during the pandemic period, and we have prepared all our supply in this regard. Thus, we had no difficulty in meeting the increasing demands without experiencing major problems in terms of deadlines.
* Has the epidemic caused a change in the areas in which you operate?
– Rasim Yüksel: Yes, contrary to what is thought, the pandemic has provided people with valuable teachings on how to overcome living space restrictions. For example, we encountered consumers who were unaware of the beauty of their garden. This has changed new solutions and end-consumer demands. As there were closures due to the epidemic, people needed spacious areas where they could be protected from the sun and rain, but at the same time. We offered these to our customers with the product range we offer as Rising Global.
100% EMPLOYMENT INCREASE IN 1.5 YEARS
* What can you say about your company's contributions to the business world, the country's economy and employment?
– Rasim Yüksel: We have been exporting with our company for 10 years. Our target turnovers are growing by 25-30% every year with new market targets. Considering the economic problems experienced throughout the world, we consider this growth volume to be sufficient at this stage. But our new year goal is; 40% revenue growth. We think that this situation will reflect on employment with its contribution to the country's economy as exports and new growth in our production volume. We renewed our current production structure by increasing employment by 100 percent in the last 1.5 years. In addition, we support the development of our personnel by providing trainings within our own structure.
Related Contents
Women's employment breakthrough from Rising Global
Source: https://www.diyadinnet.com/rising-global-den-kadin-istihdami-atilimi-h44853/ Yükselen Tente and its subsidiary Rising Global, operating in the field of shading systems and exporting to 56 countries, increase female employment. Yeliz Yuksel, Chairman of the Board of Rising Global, said, "We believe that women are at least as successful as men, and in some cases even more talented. As a company, […]
Read More